Craft pubs in Warsaw that you might not know
5 places with craft beer in the center – a non-obvious choice
There are over 50 pubs in Warsaw that offer craft beer. Meanwhile, most people who visit the capital focus on visiting only a few of the most popular ones. They do not know what they are losing!
In the very centre, there are interesting places with unique character and good beer. We present a proven list of 5 pubs that are definitely worth exploring. All within walking distance from the city centre.
Gorączka Złota
The Gold Rush (Gorączka Złota) is legendary pub. The last 7 years have radically changed the beer market in Poland. And when the beer revolution was just beginning, Gorączka Złota was already there. Here the casks of the pioneers of the beer revolution made their debut, here appeared (and still appear) respectable classics from foreign neighbours. On 4 taps, premieres appear today, for example from the affiliated, Warsaw-based Palatum brewery. In addition to beer, Gorączka Złota offers hot dishes, usually belonging to the Polish cuisine. However, their signature dish was always served cold: a decent, classic steak tartare.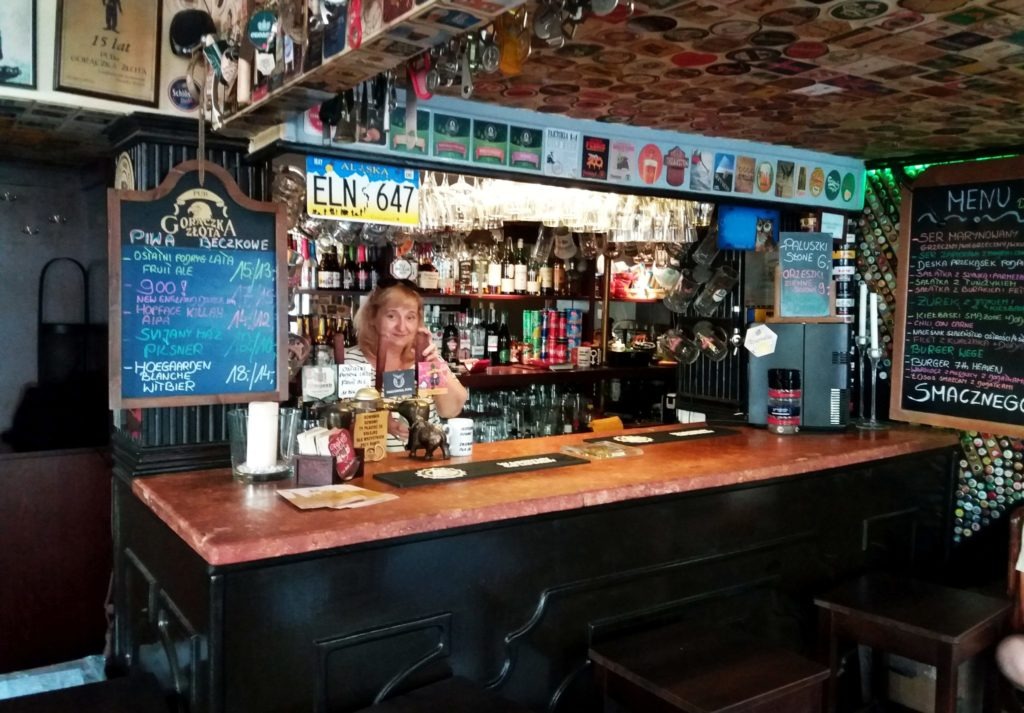 Gorączka Złota is an intimate place. The classic pub character is reminiscent of the atmosphere in irish pubs. In summer, you can get relaxed in a small garden overlooking the quiet Wilcza Street. Although it is not a multi-tap pub, it's worth including the Gorączka Złota in the list of places to visit. It is one of the longest operating pubs with craft beer in the capital. It is always nice to come here, feel the calm atmosphere, and listen to the stories of how the beer revolution grew in strength
Oleandrów Street: Inne Beczki, Cafe Me+Me
A small street between Marszałkowska and Polna Streets, near Trasa Łazienkowska, 300 meters from the famous Zbawiciela Square. Oleandrów Street. So small and so full of life. Young both in its spirit and in regard to the average age of its visitors. This short section is really crammed with pubs and cafes. The local places are small but atmospheric. Modern, and sometimes even a bit avant-garde. In warm weather, they increase their size a lot thanks to beer gardens.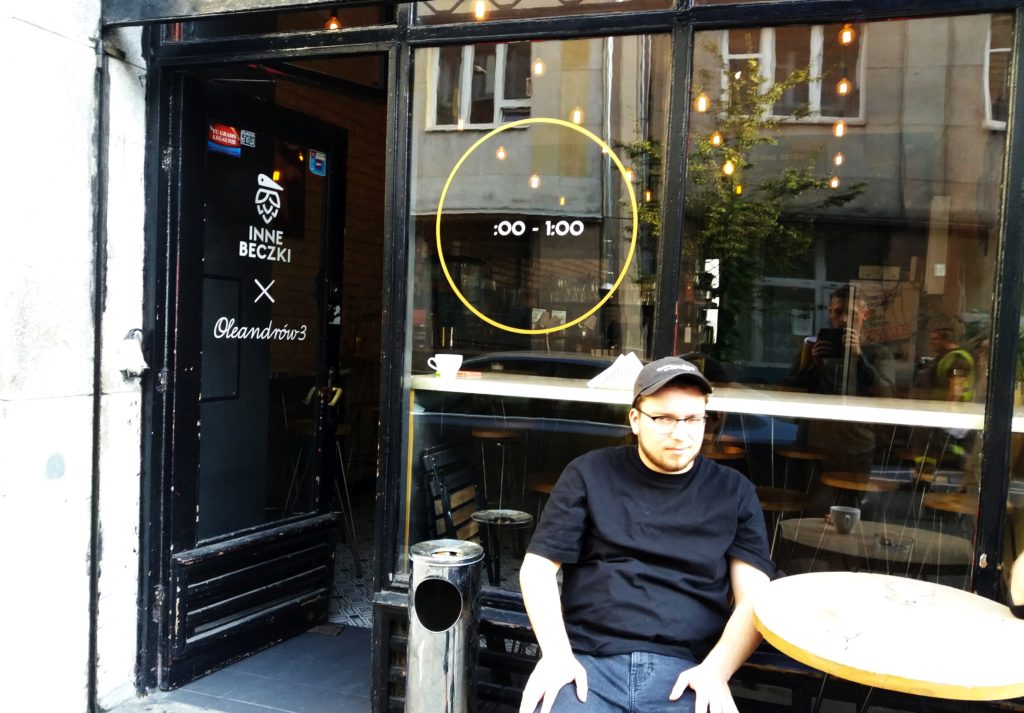 One of them is Inne Beczki. This is a pub operating under the logo of the brewery. Until recently, a contract brewery, and from 2018, a new stationary craft brewery near Warsaw. The pub is small (in contrast to the brewery) but there is enough space for various artistic events. Some of them have an alternative character.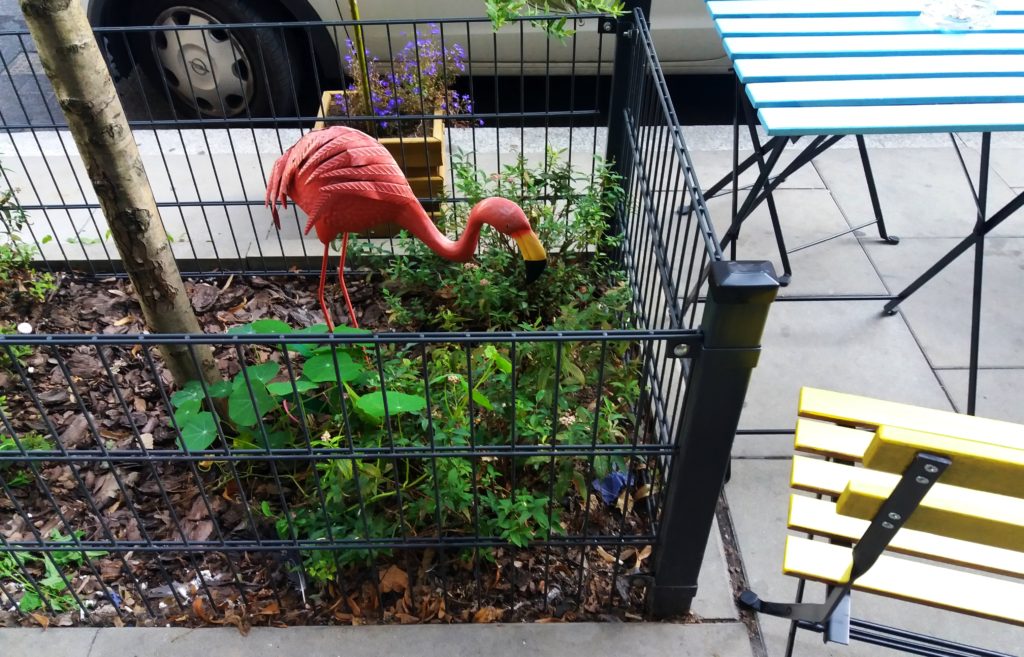 And on the opposite side of the road: Cafe Me + Me. Captivating, colourful and, like the previous ones – tiny. Me + Me is mainly a cafe with good coffee and cakes. But you can also find there some good beer, cider and wine. This place is worth checking out, even if only to feel its atmosphere. A pink flamingo in the garden indicates the location.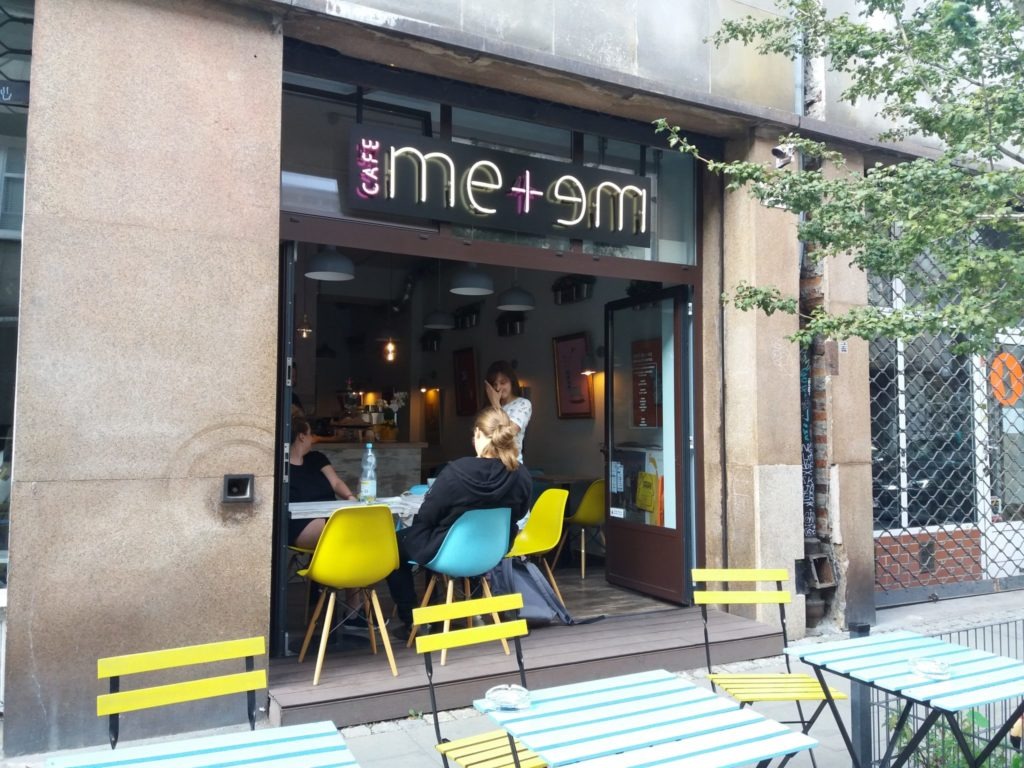 On the beer map of Warsaw, Oleandrów Street is a kind of hidden gem that is not very well-known. Those who did not get here should regret.
Drugie Dno Ochota
The youngest pub on this list, you could say it still smells of paint… but actually it smells of pizza because behind the bar there are not only taps but also a pizza oven. But first things first.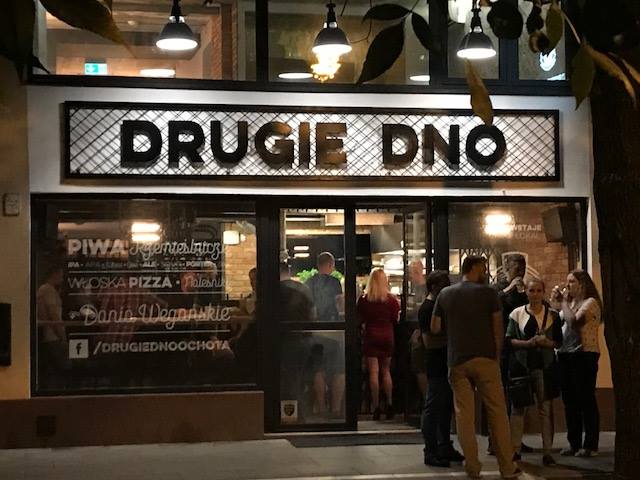 When you go west from the Central Station, you will find the Zawiszy Square. The square, or more accurately, a busy roundabout, is quite characteristic. On one side of the square, there is an interesting building of the Warsaw Ochota railway stop, with a mosaic roof. Opposite – the colourful shape of the Hotel Sobieski. Behind the hotel, there is Tarczyńska Street, surprising with its silence and tranquillity (in contrast to the loud intersection on the Square).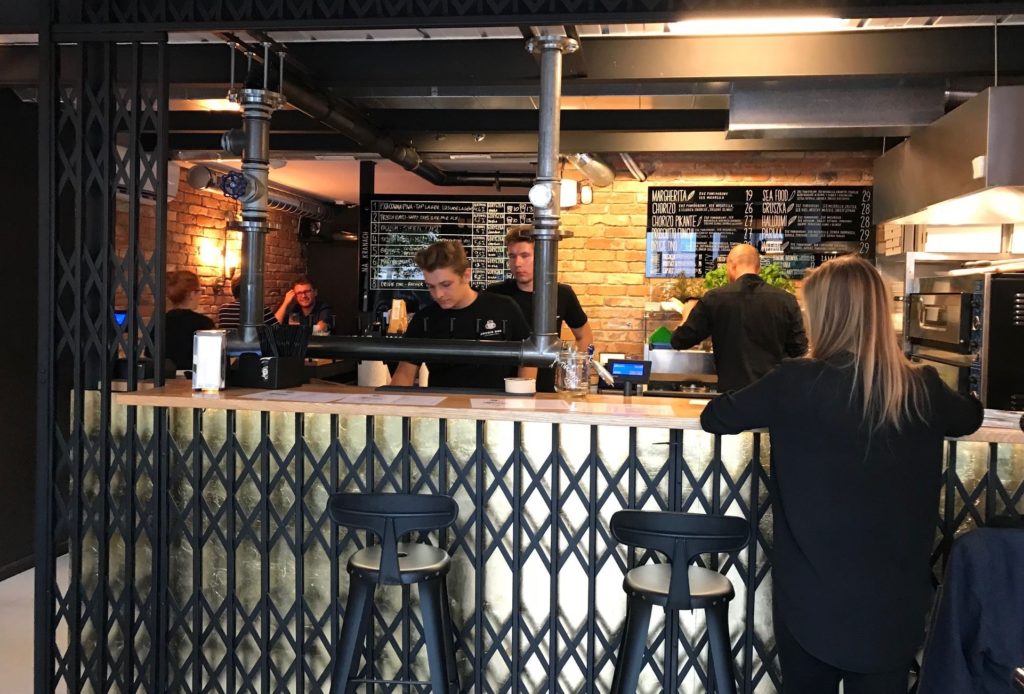 Here, between cafes, there is the second multi-tap, Drugie Dno. The idea behind the pub is great – it is to be a meeting place for the local community. It does not have to be big or have 100 taps – it's enough if it's warm, friendly, and of course not too far from home. Of course the interior design, good beer and decent food are always a plus. In Drugie Dno Ochota, craft beers pour out of 8 taps, and people eat them with a pizza made in an open kitchen (unless someone prefers a salad or dessert). The restaurant has an upper storey and it is worth going up the spiral stairs, because then you can sit by the big windows overlooking the street. It 's very nice here. And it's only 3 tram stops from the Centre.
Cześć
Cześć means "hi". And the name says it all. You walk to the bar and just say hi. In the competition for the most friendly craft restaurant, this place would have a good chance of winning the gold medal. Familiar and unpretentious – this can be the essence of a pub. You drop in, order a beer and talk to people. Problems stay behind the door, here is a place to chat, drink and relax.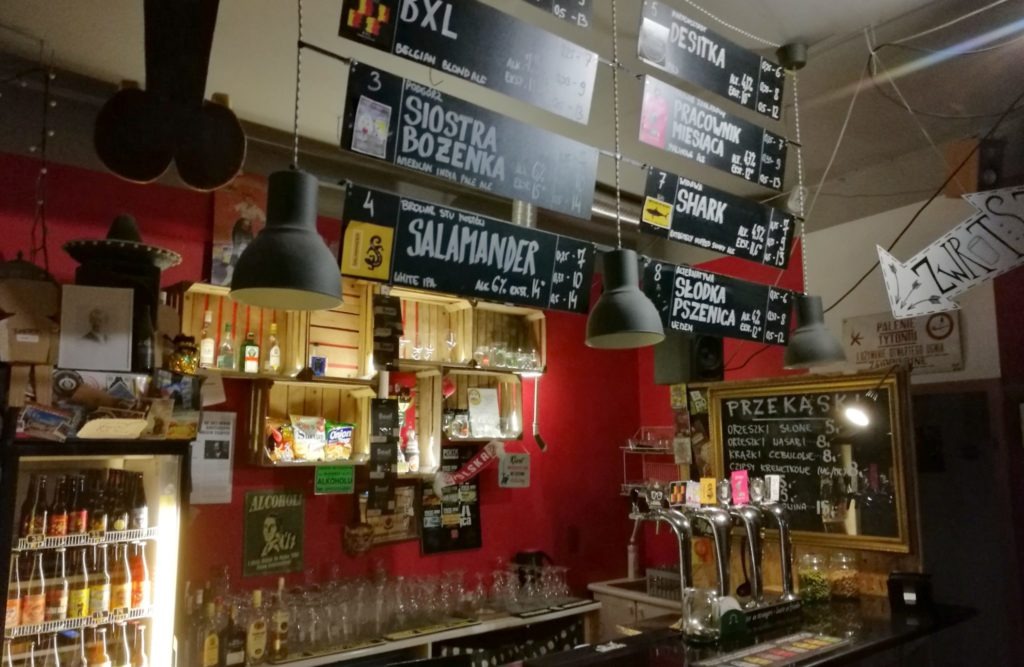 There is no designer interior, the furniture does not have to fit together. Instead, there are the laid-back owners and good beer. No wonder the pub has its regulars. Also from abroad, because the Grzybowski Square is a tourist-friendly place with a lot of hotels in the area. Drop by once and you will come back – it could be the advertising slogan of Cześć.
Kiełba W Gębie
The market hall at Koszykowa Street in Warsaw has gone a long way. From the People's Bazaar in Koszyki (opened in 1908) to today's Hala Koszyki (in its present form since 2016). From a bazaar and trade in rural specialities to the present atmosphere of an elegant place for meetings, walks, consumption of sophisticated dishes in expensive restaurants and hand-made shopping in a designer interior.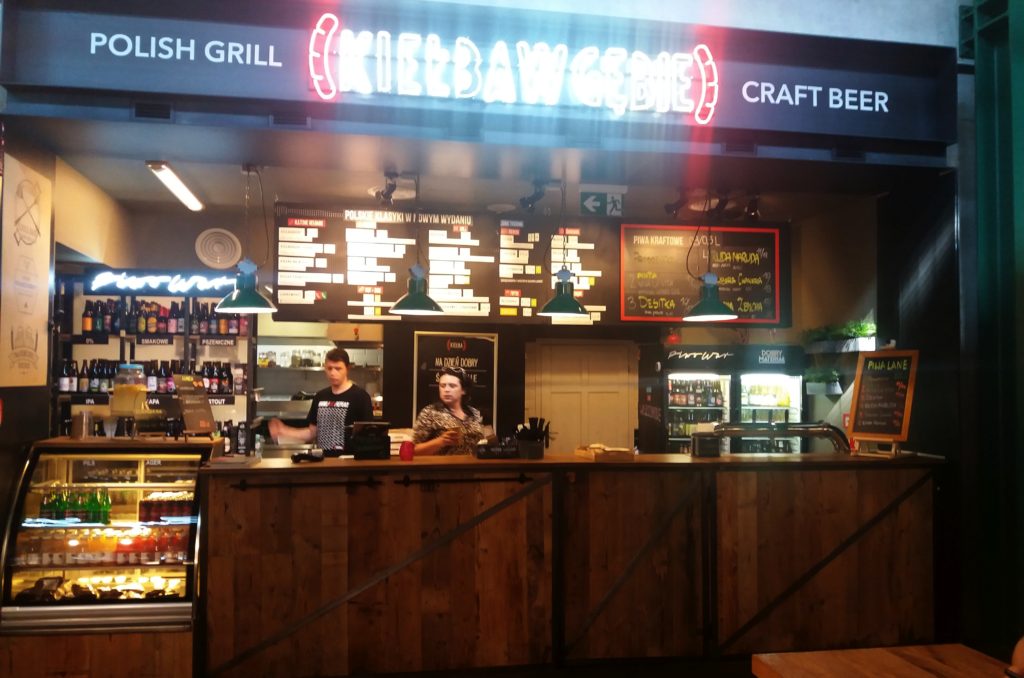 Kiełba w Gębie references the real origins of the hall that go back to a colourful bazaar. Only now its form is modernised. Because there is sausage, but only decent, homemade one. Pierogi [dumplings] – yes, but kneaded by hand. And to drink: craft beer from 5 taps. Kiełba w Gębie feels the beer revolution and every now and then it organises beer events such as tap takeovers.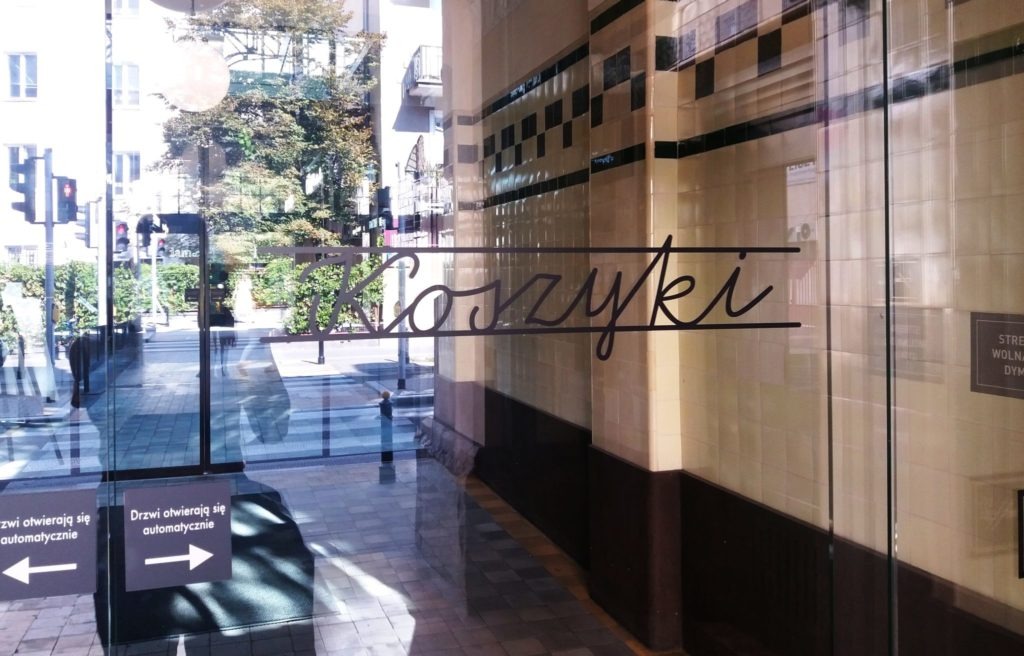 Koszyki are worth visiting because they are a beautifully restored place. It's nice to stroll here. And Kiełba w Gębie is another argument for visiting this place.