Warning: Reading this adrticle can make you hungry!
Wheat pancakes with cheese were first baked by ancient Romans. And the word "pizza" appeared for the first time in the Middle Ages. In the period when brewing developed. Coincidence? Answer this question yourselves.
In the 21st century, the fates of pizza and beer are inextricably linked to each other like R2-D2 and C-3PO. Here is the KraftMagia report: 6 craft beer pubs with pizza from 5 Polish cities.
Let us be clear – they are all decent places. No: local pizzerias with craft beer bottles only. No: bars with pizza reheated in the microwave. Six full-fledged craft beer pubs with their own oven and nifty pizza. Let's start!
1. Warsaw – Drugie Dno Ochota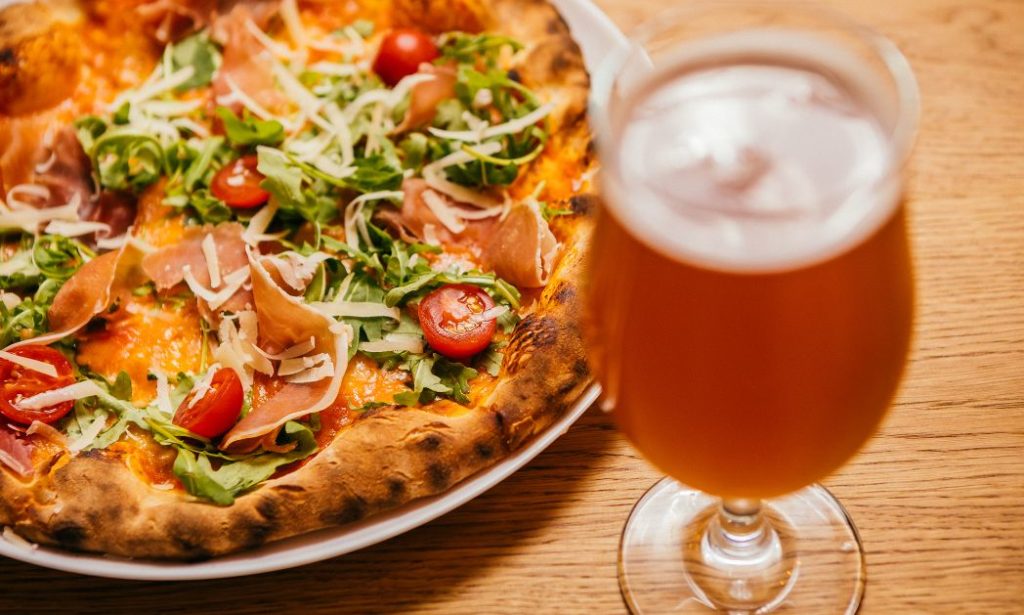 The first stop on our journey around the map of Poland is in the capital. Not by accident: over 50 multitaps, craft bars even in remote districts – the capital city lives with craft beer. At the same time, there are at least several pubs in the pizza & craft beer convention.
One of the freshest is Drugie Dno Ochota. This is the second place called Drugie Dno (the first is located at Nowogorodzka Street). 8 taps with decent beer selection, two floors and a pizza oven quickly made the pub a local meeting place. No wonder: it is cosy, modern and unpretentious. And not far away from the Centre.
Pizza: 12 types to choose from, classics from Margherita to the local speciality Drugie Dno pizza (beef cooked in porter, coriander, mozarella jalapeño), prices in the range 22-32 PLN. All pizzas are prepared from high quality ingredients. It's what guests seem to like because neither the cook nor the oven have a moment of rest. In addition to pizzas, you can also eat hot sandwiches, cheeses, snacks and desserts. Before 4:00 pm – lunches at promotional prices.

How to get there? Ochota is a district located west of Śródmieście (city centre). From the centre, you can reach it by any tram that goes west (3 stops). Plac Zawiszy stop, the Drugie Dno Ochota pub is located behind the Sobieski hotel. It opens at 12:00 pm.
address: 5/9 Tarczyńska Street, Warsaw
2. Krakow – Colombe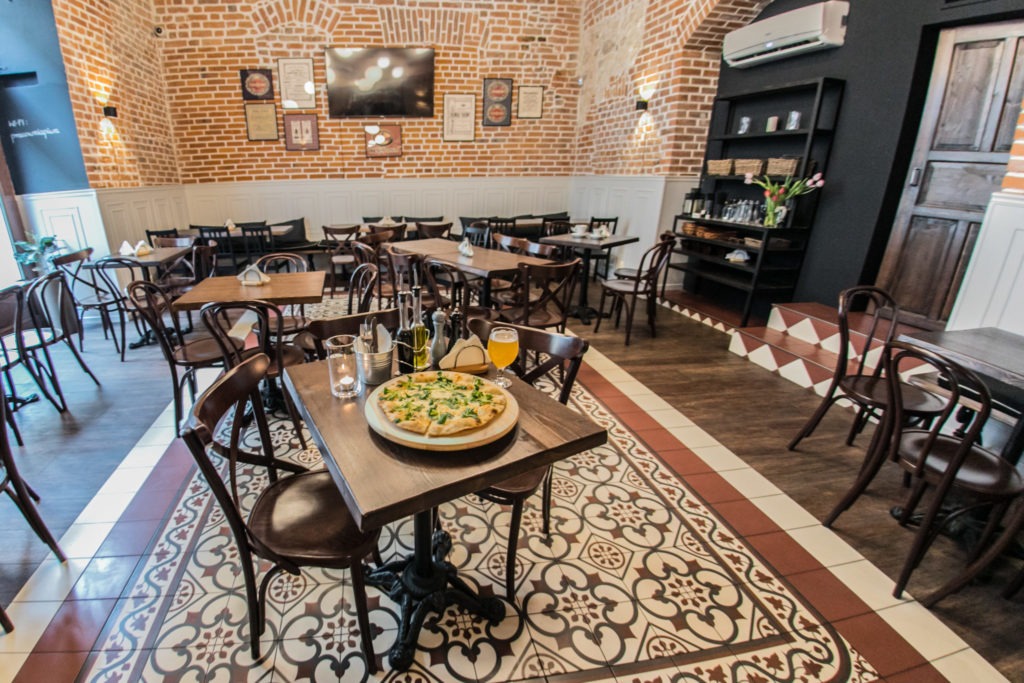 We are moving quickly to the former capital of Poland, that is Krakow (Cracow). Here is another new place, even fresher than Drugie Dno Ochota. Colombe Beer and Food is located in the Krakow Old Town. Not far from the Rynek, there is Gołębia (Pigeon) Street, which is the source of the name of the Colombe bar. In Latin, it means: pigeon.
Classic decor: brick and wood (after all, it's Kraków), an open kitchen, 8 taps with craft beer, a lot of dishes on the menu and a planned large garden. And of course pizza. This combination works.
Pizza: 11 kinds, mainly Italian inspirations; the black Colombe pizza is a curiosity. In addition, there are local delicacies such as the Maczanka Krakowska (a traditional dish made from pork, caraway seed sauce and a bun), and a large selection of more contemporary dishes such as bao or pulledpork. It opens at 12:00 pm.
address: 5 Gołębia Street, Krakow (Cracow)
3. Sopot – AleBrowar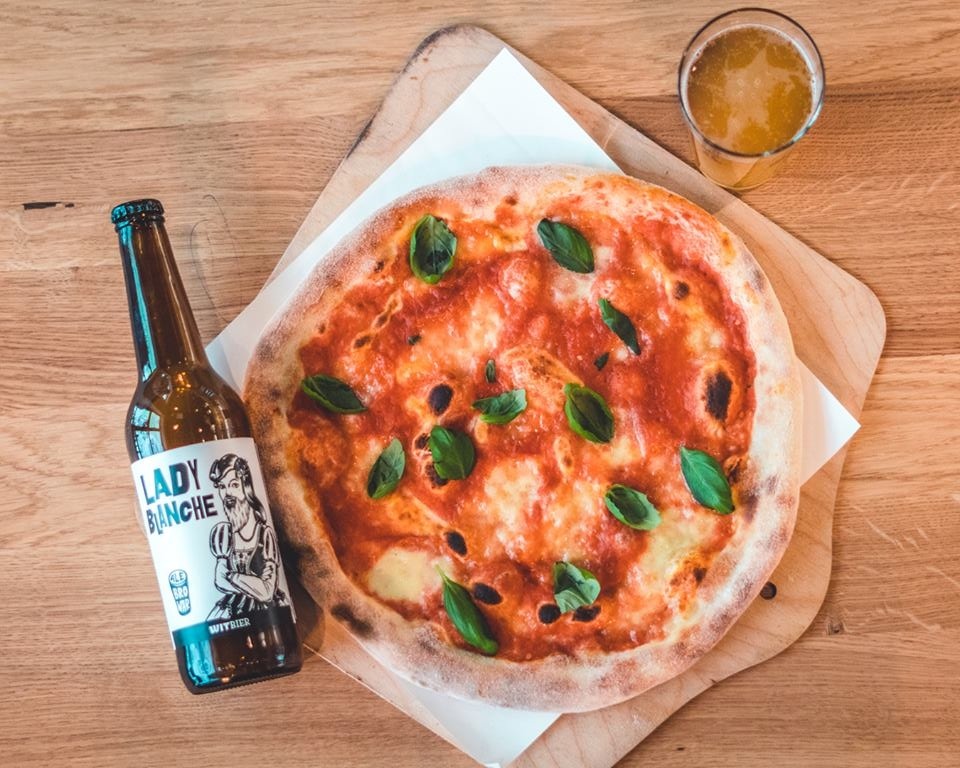 Screams of gulls on the beach make you hungry. What can you do about it? Visit the AleBrowar's Sopot craft beer pub. This is another fresh place on our list. This is the third pub under the logo of the TriCity brewery, AleBrowar. The first one is located in Gdynia, and the second in Wroclaw. Sopot joined them at the beginning of 2019. It is a spacious place near the main tourist route of the city: Monciak (Bohaterów Monte Cassino Street), which leads straight to the Sopot pier.
The pub has a selection of 13 taps with beers from AleBrowar. What is more, there are fridges with bottled beer to buy for takeaway. So the pub serves the role of a shop at the same time. And of course, there is also a pizza oven.
Pizza: thin dough, pizzas sized rather for a single person, with a lot of toppings. In addition to the classic selection, there appear some crazy options such as pizza with bananas on Fat Thursday.
How to get there? While returning through Monciak, or Bohaterów Monte Cassino Street from sightseeing on the Sopot Pier, turn left near the restaurant with a large M. Going further along the street, just behind the railway bridge, you will reach the pub (on the right). It opens at 2:00 pm.
address: 11 Podjazd Street, Sopot
4. Wrocław – 4Hops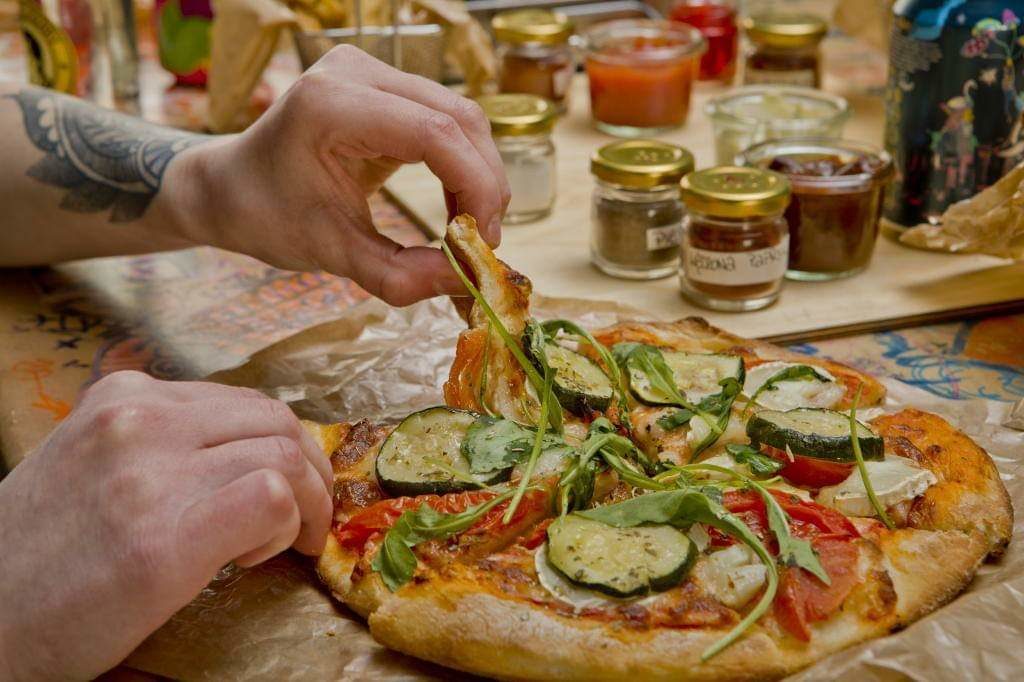 Let's move to the City of Meetings now. Wroclaw has always lived with beer. Craft beers, like dwarfs, can be found almost at every step. Ofiar Oświęcimskich Street is a perfect example. Several interesting pubs are located here, including 4Hops. 16 taps and a well-established reputation of a place that has been living with craft beers for years attract hungry and thirsty people.
Colourful decor and interesting graphics have always been a strong point of the pub. No less important is the kitchen. In 4Hops you could once eat dishes from Pancho, however, the Mexican restaurant went "on its own," opening on its own premises, and 4Hops focused on street food. Including, among other things, pizza and wraps. In addition to fast meals, bikes also appeared, because now the place is pro-cycling, and its full name is 4Hops Cycling Pub.
Pizza: 6 kinds in a modern form, thick dough and a diameter of 24 cm. Prices: 17-19 PLN. You can order vegetarian or spicy dishes.
How to get there? It's a 3 minutes' walk from the market, at the end of Ofiar Oświęcimskich Street, known for its party atmosphere. It opens at 12:00 pm during the week and at 1:00 pm on weekends.
address: 46 Ofiar Oświęcimskich Street, Wroclaw
5. Modlniczka – Proste Żarcie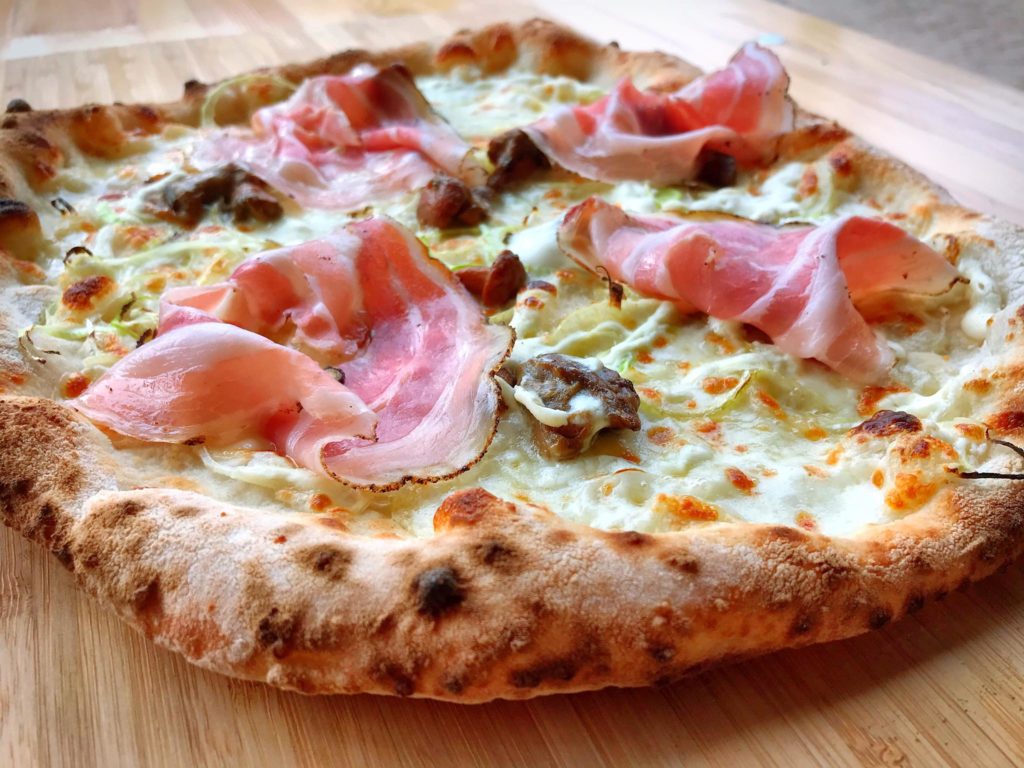 Proste Żarcie (Simple Grub) – the beautiful idea of eating food that is uncomplicated, but has an excellent taste and quality. This is the vision that inspired Tomasz Rogaczewski to open a pub in Modlniczka near Kraków. Tomasz is a co-founder of the Pracownia Piwa Brewery, next to which this restaurant has just been established. In Proste Żarcie, his two passions – cooking and brewing – could finally merge into one.
The restaurant is small, with just a few tables. It has taps with fresh beer, after all the brewery is only a few steps away. And in the kitchen, you can meet the owner himself, fulfilling his passion with satisfaction. The chef does not compromise; all dishes must be refined: whether thy are pizzas, pastes, soups or ribs. In addition to the menu, special dishes and desserts are also created. You can also buy takeaway bottles of beers from Pracownia Piwa.
Pizza: 12 neatly made types to choose from, all with great quality Italian toppings. Prices: 16-26 PLN.
How to get there? Modlniczka is located about 11 km west of Kraków at the S52 ring road. Proste Żarcie and Pracownia Piwa open at 12:30 pm; apart from Mondays, when they are both closed.
address: 31 Kasztanowa Street, Modlniczka
6. Warsaw – Same Krafty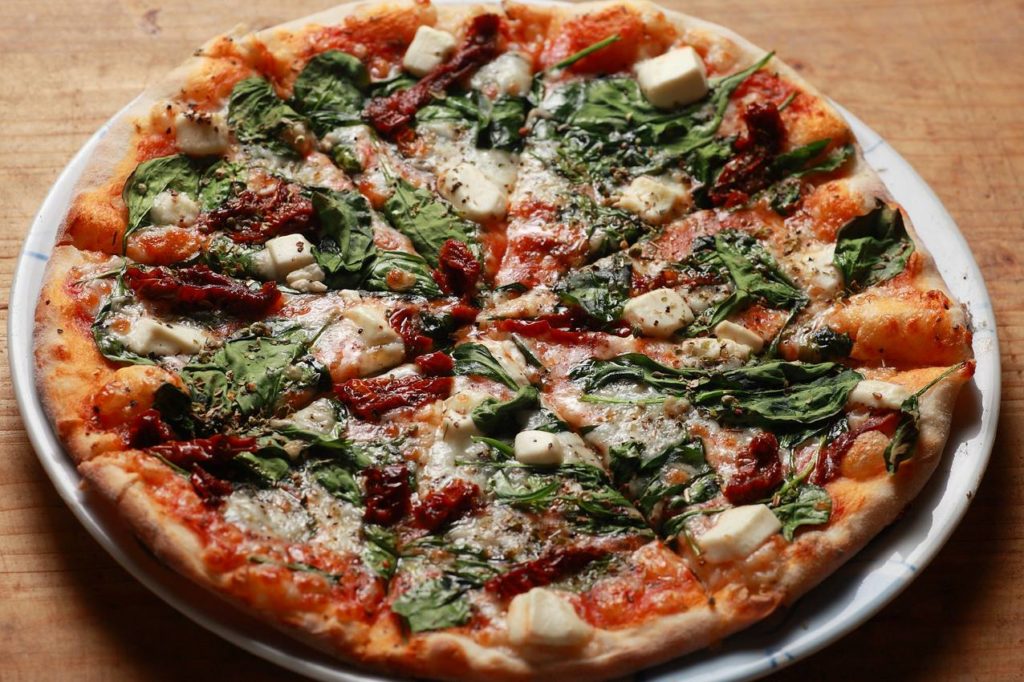 Finally, we return to the new capital. Same Krafty (Craft Beers Only) has earned an excellent reputation among Polish craft beer enthusiasts. Since its establishment many years ago, it has been continuously promoting craft brewing. Products of the top Polish breweries have always appeared on its 10 taps. And starting in March 2019, half of them will be taken over by the Trzech Kumpli Brewery.
In addition to beer, the restaurant also tempts with a pizza. People strolling around the Old Town are eager to drop by to Same Krafty for a meal. Inside, an almost spontaneous division takes place: beer consumers (at the bar) and pizza eaters (at tables closer to the entrance). And if there is not enough room inside, you can always go to the other side of the street. There are Same Krafty vis-à-vis.
Pizza: 12 types on thin dough in three sizes: 23, 32 and 42 cm. Both Italian classics and new wave pizzas. Prices: 19-48 USD.
How to get there? It's best to reach it on foot. The restaurant is very close to the Main Square of the Old Town; you can find Nowomiejska Street when you head for the Barbican. It opens at 1:00 pm on weekdays (at 2:00 pm on Mondays), and at 12:00 pm at weekends.
address: 10 Nowomiejska Street, Warsaw